I had no idea Microsoft's Bing Ads included an option to import from Google AdWords. Complete with simple OAuth-like authentication and seamless data import. It's been able to do that for at least a couple of years, I only learned about it today when setting up a Bing campaign.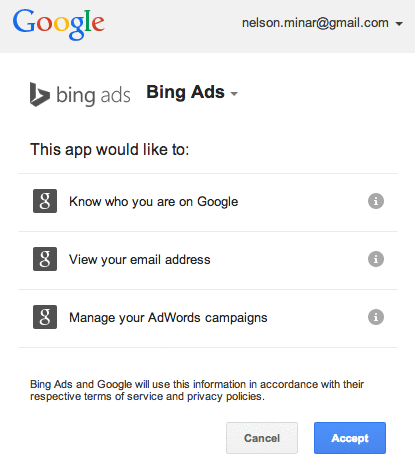 Warms my heart to think my AdWords API project helped enable some data portability for Google customers. That's essential to having a competitive market. Google AdWords is nearly a monopoly, so much so I'm surprised there's not more anti-trust interest in Google's ad business. Allowing customers to bring their data to competitors is a valuable step in staying honest and legal.
The drawback is Bing's ads have to mirror Google's crazily complex data model. (Quick, what's an AdGroup, and how is it different from a Campaign or a Creative?) I also recently set up my first AdWords campaign in years and the frontend product is really complicated and confusing. It's been nearly ten years since I worked on the AdWords advertiser UI, I was sad to see that it hadn't gotten any simpler or clearer for advertisers.