My grandmother's great-grandparents owned a slave. The slave schedules record that they owned a 13 year old girl in 1860.
Leonard and Melvina Ward were born in central Tennessee and early in life moved to East Texas. They had six children. They lived to old age, here is their sweetly romantic gravestone. I think they were farmers and lived pretty well. At least well enough to own a person.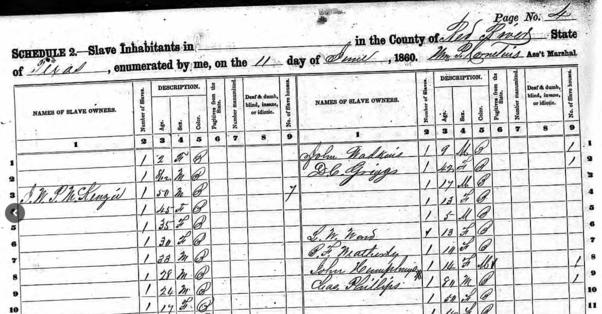 Here is what I know about the person they enslaved. She was 13. She was Black (as opposed to "mulatto"). She was not a fugitive, she had not been freed, and she was not deaf, dumb, blind, insane, or idiotic. That's all Wm P Cornelius recorded in his census. I don't know her name, where she was born, have no easy way to research her further. All I know is she was 13 and was enslaved by my 3rd great-grandparents.
I like to imagine she's what my grandmother called "a domestic", cooking and doing housework. The census records no slave houses, so maybe she even lived in the family house. I'd like to think she lived another 5 years to see her emancipation, then got far away from her captors and lived a happy and comfortable life. That would be about the best outcome for a 13 year old slave girl in Texas in 1860. More realistically she was probably impoverished and lived with little freedom in rural Texas.
Today is Juneteenth, a day of national celebration for the end of slavery. Emancipation was a complicated process that took several years to be enforced. Followed by decades of indentured servitude, poverty, and deprivation for many African Americans. The legacy of slavery lives on, it is one of America's original sins. I own a piece of that legacy.