Photographs in extreme lighting are a compromise. Either the highlights are overexposed or the shadows are underexposed. But with HDR techniques you can take multiple photos at different exposures, then combine them into a normal image with fine local control over exposure. It's a bit like the Shadows/Highlights adjustment, only with real data instead of fakery.
Photoshop CS2 makes HDR easy for normal people. Some intro material on HDR can be found in this tutorial and this article. The HDR Flickr Group is fun, too.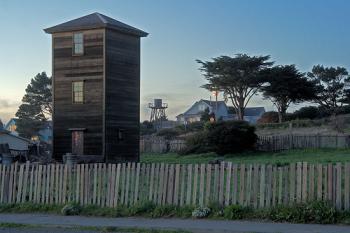 I made a
small HDR experiment
while in Mendocino. The result isn't great; boring composition, the fence looks unnatural, and I didn't have enough range of source images. But it was a good exercise. Here's how to do HDR in Photoshop CS2:
Take several photos of the same scene with a tripod at a range of exposures. No individual image will be right, but you'll get details in both shadows and highlights.
In Photoshop CS2 select File / Automate / Merge to HDR. Choose your images; RAW is preferred. Unless your tripod is perfect you want "Attempt to Automatically Align Source Imges".
In the preview, just click "OK".
Choose Image / Mode / 8-bit to bring the HDR down to a normal image.
You have several options for methods for squashing the image. "Local Adaptation" is the powerful one. You can also use the toning curve like an uber-levels tool to tune the exposure.
This is only the simplest possible conversion; there's a lot of art here in manipulating the toning curve, choosing your exposures, etc. I've also found it's useful to convert to 16 bit first to do some conventional exposure editing, then convert to 8. But still, this is enough to get started.