A few months into our relationship and I still love my iPhone. Mostly because it's a cell phone with a decent UI. Having mobile email and Web is nice too, although EDGE is awfully bad in SF. But like any relationship, after a few months some things bug you...
The "Recents" UI makes me constantly call people by accident. You get this nice list of recent calls, so you click on one of the names to find out when they called you, see their number, maybe text them a message. Only clicking the name in that list immediately calls them back. Oops! You have to click the little right arrow on the side for all the other actions. That's backwards from how the contact list works and causes mistakes daily.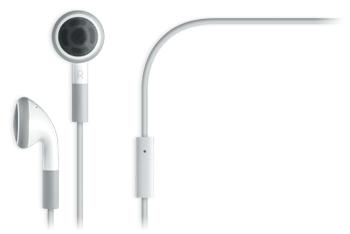 I love the hands free headset on the iPhone. Great sound, good mic, fits in the pocket. But the microphone has a terrible flaw; sharp corners. See the edges in the picture above? The microphone is
just
at the height of my shirt collar, so it's constantly catching when I walk. It's a small thing, but Apple
often
gets the
small things
right and their hardware design is why you pay the premium.