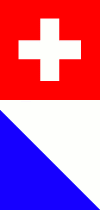 After nearly 24 hours of travel (thank you,
Air France
, for my four hours in CDG) we've arrived home and safe in Zürich. Lots of stress in travel, of course, and some apprehension about our new apartment. But as soon as we got the Internet link working all was well. The important things, you know.
The city looks good, and it sure is nice and easy to get around. The river is running high and fast but Zürich has escaped the flooding that's devastated several other towns in Swizterland.