I bought a cheap toner cartridge for an old printer. Look at the lovely packaging!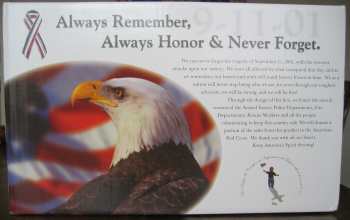 We can never forget the tragedy of September 11, 2001, with the terrorist attacks upon the nation. We were all affected by what transpired that day, and as we remember, our hearts and souls will stand forever frozen in time. We as a nation will never stop being who we are, for even through our toughest adveristy, we will be strong, and we will be free!
Through the design of this box, we honor the men & women of the Armed Forces, Police Departments, Fire Departments, Rescue Workers and all the people volunteering to keep this country safe. We will donate a portion of the sales from this product to the American Red Cross. We thank you with all our hearts.
Keep America's Spirit thriving!
Nothing says "honor those killed on 9/11" quite like an unauthorized HP Laserjet 4P cartridge named
American Spirit
. I wonder if the toner contains actual ashes from Ground Zero?
This is even tackier than Liberty Goldfish.