Ken and I are back from
EAA Airventure
, 3500 miles and 30 hours of flying. A great impromptu roadtrip via airplane: not too much planning, just go where we felt like each day. Our
final itinerary
wasn't too far off
the rough plan
, here's some impressions from the road.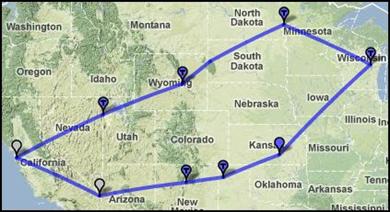 Day 1: The Western US is really empty. Nevada, Utah, Wyoming, Idaho, they don't offer much to the air traveller. Cheyenne had the rodeo in town so we stayed in Casper, a decidedly meh town, decent dinner at
FireRock
.
Day 2: Downtown Fargo was surprisingly sophisticated. We had a great dinner at the ambitious Silver Moon Supper Club, run by a prodigal son bringing Manhattan-style dining to Fargo. Nice bar, beautifully restored dining room, excellent service, and a well thought out menu. We also liked the lounge at the Hotel Donaldson, a smart boutique hotel.
Days 3–8: Wisconsin is surprisingly bland. I like middle America and enjoy smaller towns, but during our stay in the Fox River valley we failed to find anything superliminal. (Airventure itself was awesome, but that's another blog post.) There is excellent Mexican food at Zacatecas in Neenah and the nearby Saint James bar was comfortable. But when the signature local food is deep fried cheese curds you gotta dig deeper.
Day 9: Wichita, a last minute decision because we were getting such nice tailwinds. Old Town is an interesting urban renewal project, a warehouse district converted to bars and restaurants and an ersatz town square. It seems to be working pretty well but it was too damn hot and on a Sunday most everything was closed. Wichita is the airplane manufacturing capital of the US: we need to go back with a plan to do some factory touring.
Day 10: Santa Fe, my old home. I'd forgotten how mediocre Tomasita's is and regret asking to meet friends there, but we had a good time. Tia Sophia's is still fantastic for breakfast. The cathedral is remarkably beautiful, particularly the light and colourful interior.
Day 11: Lake Havasu City is an astonishingly ugly town where despite it regularly being 120° (90° at 5AM) it's full of boaters in summer and drunk bimbos and jocks for Spring Break. We intended just to stop for lunch but got stuck there overnight when the alternator on the plane failed. Actually it turned out fine because all the locals we met were so welcoming and helpful, really nice folks. Desert Skies FBO set us up with a loaner car and a place to stay and Arizona Aircraft Maintenance did a fantastic job getting our plane fixed and us quickly on our way. I'll definitely be stopping here again for fuel and great barbeque, just not in the middle of the summer.
We had a really nice time on the trip and I look forward to travelling like this again. Seeing the country in a little plane is a whole different experience; you go faster, you're more disconnected up at 10,000', but then when you land you're suddenly very local.