Ken and I leave tomorrow for Oshkosh, WI and the
EAA AirVenture
, the Woodstock / Frankfurt Book Fair / Boy Scout Jamboree of American aviation. It's enormous, some 300,000 people come every year. The true experience is to
fly in
to the
crazy busy airport
and camp on the field in a tent under your wings. Ken and I have opted for flying in to a nearby airport and staying in a hotel, more our speed.
This trip will be my first time planning a multiday plane trip. It's complicated finding a route that is safe, efficient, and interesting. The hard part is finding airports where once you land you'll find something to do and a way to get to a decent hotel and dinner.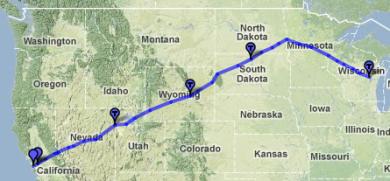 We're planning on three days, stopping tomorrow in Casper WY and the day after in Fargo ND. Also lunch stops in Wendover UT and Spearfish SD. All places I'd never imagined myself going! You can see our
full route
: 1667nm, or about 15 hours of flying. Weather permitting.
The best times in my life have been car road trips where I wasn't quite sure where I'd end up any given day. Flying in your own plane is pretty flexible, but the logistics of finding ground transportation feel a bit confining. Then again for once Ken is the relaxed one about travel plans, he's happy to take what comes to us. Should be fun!