Starlink is good technology. I'm posting this blog entry from space. By which I mean Starlink, SpaceX's new LEO satellite Internet service. I've been beta testing it for six months and using it exclusively for two. It is terrific. Some notes from a United States perspective.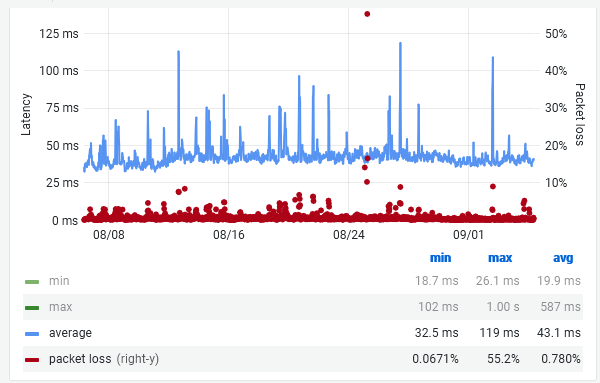 Does it work well? Hell yeah! It's more like having cable Internet than satellite. Over the last month my average bandwidth has been 100Mbits/s down, 12Mb/s up. Average ping to 8.8.8.8 of 41ms with 0.5% packet loss. Bandwidth is highly variable (50-200Mbps) but latency is pretty solidly 30-50ms. The main failure is occasional outages of ~10 seconds. That got a lot better mid-July with a Starlink change and will only get better as they launch more satellites. The service is still technically beta and there are some rough patches but it's totally usable.
Is Starlink for you? Maybe. If you can get wired service (cable, fiber, faster DSL) that is probably a better choice. If you're in a poorly served rural area in Ajit Pai's America and you're struggling with ViaSat or Hughes or using cellular, definitely. For me it's an upgrade to my 12/1 Mbps fixed wireless service.
Will Starlink work at your house? Probably! It requires a clear view to the north. The free Starlink mobile app has an augmented reality tool to show you whether you have a good view. A few small obstructions are OK but if you live in the middle of a bunch of trees you need to go higher on your roof or get a mast.
Can you get it? Probably not soon. They are enormously back-ordered; Starlink has a limited amount of bandwidth per satellite and they are slow to add new users. They just passed 100,000 installs globally and are rumored to have 500,000+ customers on the waiting list. The best thing you can do is pre-order and put down a $99 deposit. It may be a year. (I got super lucky.)
Is it nerd friendly? Totally. You can use your own router; Starlink provides one but does not require it. Dishy has an open gRPC interface for getting detailed stats. The Internet service is quite solid and not messed with in any way I can tell. They sorta support IPv6 already and promise more. The main drawback is that (at least in IPv4) the service is cgNAT, you really can't run a server behind Starlink in any reasonable way. The cgNAT is for good reason: they're doing some very sophisticated routing, your packets may be relayed through several base stations hundreds of miles apart and it's remarkable you have a stable external IP address at all.
Will Starlink succeed as a business? That's hard to say. The program is still beta and currently has no bandwidth caps or significant throttles. And it's $99/month: a lot by US urban ISP standards but competitive for rural areas. The problem is the satellites can only handle so many users and it seems too early to tell whether it works out to be profitable. Launching thousands of satellites is expensive but SpaceX are experts at that. Also crappy companies like ViaSat keep suing to stop Starlink because they can't compete. Amazon is trying to make up for being years behind by trying to get the FCC to harass Starlink. The legal attacks seem to be failing so far in the US but you never know.
What's next for Starlink? They launched their first full shell of satellites earlier this year, then took a pause. They seem to be fine-tuning algorithms and transceiver power settings right now. The next major change is a plan to use laser links so satellites can route packets directly (currently everything is relayed to the ground). It seems like a very hard problem but they are serious about doing it; ultimately Starlink might be better than wired service.
I'm not an Elon Musk fan but I have to say Starlink is amazing. And audacious; I never would have believed it would work (remember Iridium?). But it does work and it's been a significant upgrade for me, so thank you SpaceX. The hilarious thing is the whole idea of Starlink apparently is about Mars; the project started as a way to design networking infrastructure for a colony on a new planet. Oh and then completely upended Earth's ISP market as a sort of proof of concept.