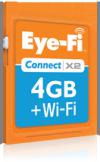 The
Eye-Fi guys
have a new trick, uploading photos from a digital camera wirelessly to your iOS or Android device and from there, to the Internet. The core tech is an SD card with a wifi network magically shoehorned into it.
I had a lot of fun on my recent trip posting photos via Twitter. It was like sending postcards, some 92 images with bits of text day to day. Only problem is they're crappy camphone images. Now I'm home and have a stack of 500 good photos taken with a real camera but without the enthusiasm of immediacy to edit and upload them. If only I had a way to upload photos from my real camera during my trip! Well I did, via the Eye-Fi, but I only found out about it when I got home.
The magic is direct mode. The Eye-Fi SD card not only can join wireless networks, it can form its own ad hoc wifi network solely to beam photos to other devices. The Android and iOS apps are smart enough to find this little private network and get your data. It's a total hack but a clever one. Makes me wonder a bit what the point of Bluetooth ever was.
I should note that Eye-Fi has had the ability to upload photos to the Internet for a lot longer. The problem is with only your digital camera as a user interface, you had no good way to choose and edit the photos before uploading. The iPhone (or better, iPad) is a perfect solution. Also this route lets you upload via any 3G network your device has.