Jeff Minter
's new Xbox Live Arcade game
Space Giraffe
is brilliant. It's nominally a Tempest-like shooter with some gameplay subtleties. But what it really is is completely fucked up. If you have an Xbox 360 check out the demo. If you don't,
this video gives an idea
.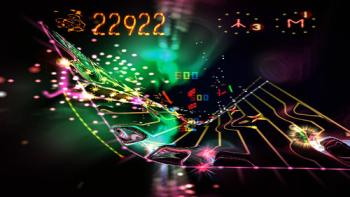 The gameplay is good, but it's the æsthetic design that makes the game brilliant. The graphics are over the top technopsychedelia coming from Minter's acid head music screensaver engine. When the graphics inevitably blur into a purple haze the sound design takes over as you interpret the sounds of ringing telephones, bleating sheep, and shattering plates as cues of what's going on behind the full screen glow effects. It seems awful but it's really fun, bringing me back to the sensory overload experience of a 1980s arcade. I mostly agree with this reviewer's
comparison to Ulysses
. A bit impenetrable, but deeply rewarding.
I love Xbox Live Arcade; they're cultivating a catalog of inexpensive games with creative visuals and fun casual game play. A game like Space Giraffe has no hope as a traditional release, but as a $5 Xbox download? No problem. Lumines is also brilliant on XBLA and GEON: Emotions looks promising.