French class has been exhausting, so as a little break Ken and I planned a couple of days bumming around little towns in Provence. We started by having lunch in Bonnieux, a town clinging to a hillside with a view across the valley to Lacoste and the castle of the Marquis de Sade. That evening we ended up in St. Remy de Provence, one of the more pleasantly touristy little towns with lots of shopping and the birthplace of
Nostradamus
.
Alas, the Hostellerie du Vallon du Valrugues didn't work out so well. Nice enough resort hotel, a bit needing renovation, but the new restaurant Pierre Reboul was a disaster. Fantastically creative and delicious cooking destroyed by a service staff who was well schooled but had no management. We ordered the seven course Easter menu and walked out after four courses and three and a half hours of mostly being ignored. Quel dommage! Maybe they'll fire the useless maitress d'hotel and get a competent manager; I hope so, the chef was impressive.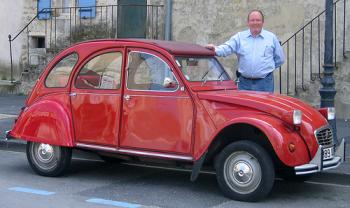 Our next day was consumed by driving to les Baux de Provence. It's only 30km away, but somehow between the fine weather and the
fantastic and comfortable manoir hotel we arrived at
we didn't see any need to do anything complicated like battle through the crowds to visit the tourist sites. (Which are lovely, by the way, but we'd seen it last year). That evening was one of the best dinners Ken and I ever have had, at the Oustau de Baumaniere with chef Jean-André Charial. Excellent and highly refined cooking, a fantastic wine list going way back at reasonable prices (hello, 1969 Corton!), and absolutely perfect service. All in all I can recommend a few days in les Baux as a perfect French experience.
The last day we made up for our indolence by visiting Tarascon, a mostly unremarkable town on the Rhone. Not much to the place except an amazingly preserved 15th century castle with a great view of the town below. Tarascon is also home to the Tarasque, a six legged armored turtle with a lion's maw who lunges out of the Rhone to steal and eat children. My kind of monster. You can still hear his call echoed in the frogs in the moat.