Last week's warm weather got Ken and I itching to go to the countryside, back to our favourite region of the Loire. This valley is true storybook French countryside, all wine and cheese and mustard and chateaux and rivers and charming villages. We've visited there about five times now, always just for a few days of staying in chateaux and relaxing while exploring little villages. It's lovely. For a view, see my
various photos of the Loire
.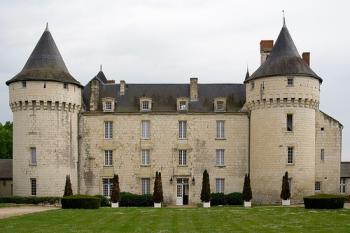 This trip was structured around two hotels; Le Prieuré near Saumur and the Château de Marçay near Chinon. The Prieuré was lovely, an old priory perched up on a hill above the Loire. Excellent restaurant and completely quiet, very restful. The mushroom museum nearby is worth a visit. And the Ch. de Marçay was fantastic, as always. It's our favourite place to stay in France; a fantastic old building, a great restaurant, and incredibly friendly staff that makes us feel very welcome there, more so than at some of the better known and fancier chateaux. This last visit was our best yet; the current menu was excellent and more seasonal than the past, including some of this spring's first morels. And the fantastic sommelier from Au Plaisir Gourmand now works there, it was great to see him again.
The highpoint of our tourism this trip was a visit to Domaine des Vallettes, a winery in St. Nicolas de Bourgueil. We always see wineries and cheese farms when we're driving around but have been too intimidated to stop in and take the invitation to taste and shop. But after a couple of weeks of French lessons I felt a bit more bold, so in we went. And had the most pleasant reception by François Jamet, the winemaker. He invited us in to his cellar with a big smile and started pouring wine. Good wine, a simple rosé, a simple red, a more refined St. Nicolas de Bourgueil red, and some 10 year old Bourgueil he had sitting around "for fun". All modestly priced, no bottles over 10€, but all well made and quite enjoyable. We came away with six bottles and the satisfaction of having a conversation in French for 45 minutes with someone who truly seemed to enjoy explaining his wine and chatting with his random American visitors. A real pleasure.
Experiences like this are why I keep coming back to France and seeking out the countryside. People are very friendly and happy, the land is beautiful, and if you seek it out you can find some great food and wine and relaxation.