One of the pleasures of being in Paris for so long is easily taking little trips to other parts of France. Neither Ken nor I had been to Marseille nor much of Provence, so that's where we went. I took
lots of photos
, too.
We started in Marseille, the ugliest French city I've ever seen. Crazy Mediterranean traffic and nasty 1950s concrete buildings combine to make a beautiful bit of landscape quite unpleasant. It is an interesting old port though, and the Hôtel Passédat - Le Petit Nice was great with a truly fantastic restaurant. We also had a traditional bouillabaisse at Chez Michel, a hardcore fish place. Excellent, even if eating a quart of liquid, 4 fish, and a pint of mayonnaise as a side is perhaps a bit much.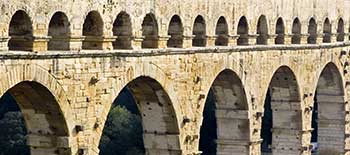 But Ken and I love the countryside more, so we went off north to
Castillon du Gard
, a tiny restored hilltop town near the
Pont du Gard
. Ken found us another great hotel / restaurant there,
Le Vieux Castillon
. Despite the place being only about 5% full (ie: two parties) we were fed and treated very well.
Along the way we visited the 12th century fortress ruins of Les Baux de Provence, the Roman aqueduct of the Pont du Gard and about twenty little Provençal villages. A very pleasant few days, and perfect weather in November.