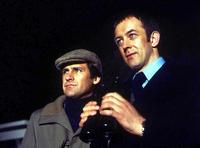 I just finished an extraordinary late-70s TV show, The Sandbaggers. It's British spy TV. While the show name-checks James Bond frequently the soul of it is more of a Le Carré thing. Intelligence as a series of dismal political battles between underpaid civil servants at the home office. Occasional forays into the field where everything is squalid or ambiguous and nothing grand is ever achieved.
The show hangs on Roy Marsden's performance as Burnside, the Director of Operations at a British intelligence agency. The titular Sandbaggers are field agents, vaguely like the Bond 00 agents, but there's never any swashbuckling action or romance. Occasional gritty affairs and some grim minor violence, all done on a low budget and with precious few location shots. If you ever enjoyed Blake's 7 or early Doctor Who the low production values will be familiar. So will the excellent quality of the writing and characters, there's a lot of complexity and subtlety and more than a few surprises.
Mostly the show has aged well. It's firmly set in late Cold War, there's no hint of the extraordinary transition that happens in the 80s as the Soviet Union fell apart. Unfortunately the show is unimaginatively sexist with a lot of "men hitting on women in the workplace" nonsense. There's one good female character in part of the show and Burnside's secretaries are both good actresses with some sharp writing. But it feels dated even for its time.
I appreciated watching something at a slower and more thoughtful pace. I think the show is ripe for a reboot. Keep it set in the Cold War with roughly the same stories. But update the show: write better women and modernize the production. Then branch out and tell some new stories in Asia or South America or Africa.
You can watch a licensed copy in the US on britbox.