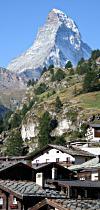 Ken and I took our first Swiss weekend excursion to
Zermatt
, a mountain resort town in the Alps on the Italian border. I took lots of
photos
.
Zürich so far has mostly been the grind of finding our way around and working, so it was with optimism we boarded the train for our first tourist trip. Impressive train ride, too, one of the few north-south routes across Switzerland to Brig and then a smaller train company with a cogwheel train up the valley.
We picked Zermatt because it was up in the mountains; it's been awfully warm in Zürich and Ken likes trees and I like mountains. We were well rewarded, with tidy high Alpine meadows and dramatic mountains and an easy gondola ride to the top. The Matterhorn is very impressive, both entirely clear and with clouds coming out the top.
Being famous for mountain climbing, Zermatt is also famous for dead mountain climbers. Lots of grave markers given prime placement in the middle of town, a constant reminder that it's dangerous up top.
We had a great stay at the Hotel Zermatterhof, one of the fancier places in town. We got a good deal thanks to the fantastic Zermatt tourist website. Three great meals, too. We had a lovely dinner at Max Julen with a very friendly chef who made us special grilled venison. On our last night we had a crazy five course gourmet dinner at the Zermatterhof. But the most special was zum See in Furi, a little hamlet above Zermatt that's about a 45 minute walk on a beautiful Wanderweg. There we had a fantastic lunch of a venison and chantrelle salad followed up by homemade rhubarb cake. Only in Switzerland will you find a great restaurant up in the hills where the only way to get there is to hike.
Happy tourists. Mind you, this was Zermatt in summer; it's more of a winter ski resort. Looked great for that too!