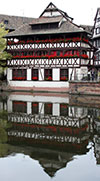 One of my favourite cities in France is
Strasbourg
, in
Alsace
where the French speak German. Or formerly, where the Germans spoke French. Alsace is really its own thing, and a great place for it.
The most picturesque part of Strasbourg is La Petite France, the former tanneur quarter that has preserved its canals, locks, and half-timbered houses. I could spend days just lazing away in the little streets. In the rest of town, the cathedral is incredibly impressive. As a bonus it features one of the finest working medieval computers, the Astronomical Clock (details). Worth a special trip. And the Musée Alsacien is one of the best folk culture museums I've been to.
Strasbourg is a great food town. Au Crocodile is the famous Temple of Food there; very good, but a bit shallow for my tastes. The Bierstub Ami Schutz is great if you want cozy Germanic fare prepared with French finesse. Couldn't be a more comfortable place for a good dinner.
But the real food revelation for me was Flammeküeche; pizza if pizza were made with German ingredients and French skill. An impossibly thin cracker crust cooked in a super hot oven, a creamy sauce with bacon for flavouring, and just a bit of onions and sharp cheese. My favourite was at the Académie del la Bière, served with a selection of hundreds of beers (and free WiFi).
I have photos online, mostly of the charming houses and canals. And one of this crazy plaque in Place Gutenberg commemorating the printing press.