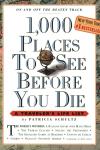 Ken and I love to travel but sometimes we have trouble thinking of interesting new places to go. The book
1000 Places to See Before You Die
is a great source of ideas. Just like it sounds: a list of places worth seeing in the world. Parks, gastronomy, archeological sites, etc.
For example, California's entry is twelve pages on Death Valley, Yosemite, the Monterey Peninsula, the Pacific Coast Highway, the Golden Door spa, Hotel del Coronado, the Getty Museum, Hollywood, the SF Cable Cars, Chez Panisse, and Wine Country. I could quibble with a couple of these suggestions, but if you've never been to California that's a pretty good place to start. And the book has suggestions like this for the whole world. Tanzania? Bhutan? France? All here.
It sounds a bit cheesy, but the book is well executed and full of interesting ideas. And the short format makes it ideal for occasional browsing. Fun book.