Last week I finished a 10 day flying trip to Houston and back. I grew up in Houston but hadn't been there in years. Part of my purpose was reconnecting with old friends and part was having a flying adventure on my own. 25 hours and 3000nm over some six days, worked out great. Here's
some photos from the trip
.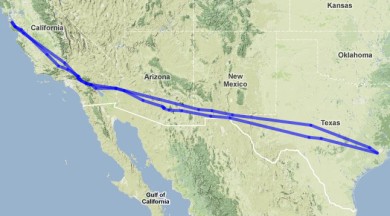 I followed
a southern route
. Overnights were in Palm Springs CA, El Paso TX, Houston TX, San Angelo TX, and Palm Springs CA again. Good weather most of the way, necessary since I'm not instrument rated yet. Lots of light chop which gets tiresome. Also some alarming mountain wave over Palmdale the first day: 40kt tailwind turned into dramatic up and downs, at one point I was at my best climb speed and still losing 500 feet per minute. Altitude is your friend! I also discovered after six hours of flying I'm pretty tired and not as sharp on the landing as I should be. Nothing unsafe, but I have a better of idea of my limits.
I had some good food. Bad weather made me drive to Austin but on the way I enjoyed Black's Barbecue in Lockhart with excellent brisket and some of the best smoked sausage I've ever had. Then that night I had phenomenal nouveau sushi at Uchi in Austin. Houston Tex-Mex wasn't as good as I remembered, but El Real Tex-Mex was quite good. Danton's in Houston was good for fancy-pants Creole and Ragin Cajun was good down home bayou cooking, including a bucket of crawdads.
The best thing of the trip was reconnecting with old friends, particularly high school buddies. Amazing to reconnect with people for the first time in twenty years and feel perfectly comfortable. They all turned out to be interesting and nice people, too! I also had a good time meeting some new people, including a hilarious gay night out in San Angelo, TX with some friends-of-friends that turned a dreaded West Texas overnight into a real hoot.