On the heels of ETech, Ken and I spent a few days in Santa Monica. Ken's a
pilot
so it's easy to pop up and down the west coast. Particularly around LA where the municipal airports are so
convenient
.
We stayed at the Fairmont Miramar, a nice big hotel. Too expensive for what it was, but you can't beat the location right next to the beach and the Third Street Promenade. Santa Monica in general is pretty nice. A bit scungy on the edges like all beach towns, but lots of mellow good feel and a compact enough center you don't really need a car.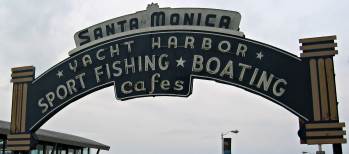 We had a fantastic dinner at
Michael's
, one of Santa Monica's oldest top tier restaurants. Great service, good
wine list
, very nicely made
food
, and a comfortable outdoor patio. It was only about a third full on a Friday night, a bad sign, but the food was terrific. We also had a good dinner at
Rocca
, an achingly authentic upscale Italian place. I had beautiful tagliatelle with pheasant.
The ostensible reason to go to Santa Monica was to visit the Getty. It's a pretty amazing museum. Not so much for the collection on display, which I found sort of pedestrian except for the impressionists. But the architecture is fantastic. Brand new, luminous yellow limestone, views from every angle and a huge complex. Also very friendly. Well worth a visit. If you drive, do yourself a favour and stay off 405; take Sunset Blvd instead.
See also some Santa Monica photos.