My Parisian friend Evelyne just took a big Route 66 trip, a long dream of hers to drive the Mother Road. (Oddly, Route 66 is a much bigger myth for Europeans than Americans.) I love road trips so was glad to be able to join her for a portion of the trip, from Las Vegas to Santa Monica.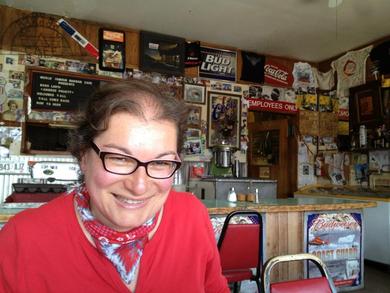 The highlight of the day was lunch at the Bagdad Cafe in Newberry Springs. It's just a little roadside dive of dubious cleanliness, but it's awesome because it has become internationally famous thanks to the German film. They get 100+ guests a day from France, Japan, Germany, all over the world, in the middle of nowhere in the Mojave. The owners have recognized the good thing and are welcoming and have decorated the place with mementos brought by visitors. Really cool experience and the chili burger was pretty good, too. (We met Ken at the Barstow/Daggett airport, about a 15 minute drive away.)
The lowlight was buying gas at the Hi Sahara Oasis, the worst gas station in America. It's the only gas for miles and we were getting towards empty, so I don't begrudge them charging $5/gal. But the staff was incredibly rude and the place just reeks of bad karma. Avoid.
Honestly, the drive was not awesome; the Mojave is long and boring with very little to see along the badly paved old road, not even many remnants of settlements and amenities. It didn't help we were starting in Vegas, two hours north of the actual route. If I were doing it again I'd skip the empty road in the desert and focus my time more on surface streets in Needles, Barstow, and Los Angeles. Or else take two days; 380 miles is too long for one day. By the time we got to LA we just took I-10 across town to be done with it.
Evelyne said she had a splendid time from Albuquerque to Vegas, lots of beautiful sites along the way. And I have to think the portion from Chicago to Oklahoma is still vital, nice towns and things to see and do. Maybe I'll do that trip myself some day.
BTW, the best free guide for Route 66 I've found is Route 66: An American Treasure published by AAA. It's got a good high level map and information. There's a whole industry in much more detailed maps and guides for Route 66 but the AAA maps are a good start.