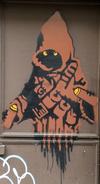 I've loved the street art in Paris. So many fun discoveries, random art in unexpected public places, some beautiful works by Mesnager, L'Atlas, C214, Space Invader, Miss Tic, and so many more. Sadly, my visit to Paris in 2014 was a bit more discouraging.
The bits I've found in the posh parts of town, the 1st, 2nd, 4th, and 6th have been interesting. But a lot of work I remember is gone. Many suspiciously blank spots where there used to be invaders, or interesting affiches, or other things. It feels like someone went and cleaned many of the streets.
Also a very discouraging walk through Bellveille; see my Flickr photos. It's always been a grimy neighborhood, it's part of the charm, but the street art there has taken a turn for shitty tags over clever site pieces. And the amazing old gallery at La Forge / La Kommune is completely gone, the artist squat space has been replaced by an ugly modern building. An inevitable development, but a disappointing conclusion for a street art walk. Some of that energy has moved down to Rue Dénoyez but it's mostly tags, not interest art. Also apparently that space is threatened.
Sorry to be a bummer, maybe it's just me. Particularly sad to have found almost nothing new and exciting.