The main destination for our Nordic trip was Norway, driving up the coast from Bergen to Tromsø (flying over part of the 1800km). The west coast of Norway is incredibly rugged, full of mountains and fjords. Lots of beauty along the twisty slow roads. As you get further north it gets sparser and quieter and colder but never truly isolated. There were too many places
we went
to write them all up, here's the highlights.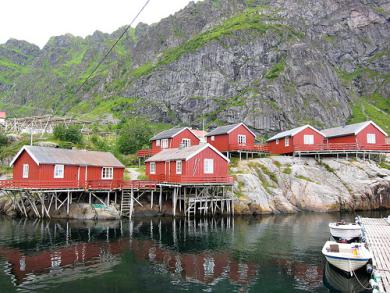 My favourite place was
Lofoten
, a
remote
peninsula and islands that's very rural, mostly old fishing villages. It's a big tourist destination and well worth it, beautiful and quiet. We stayed at the fantastic
Reine Rorbuer
, a hotel made out of old fishing cabins with a very good restaurant attached. I could easily spend a relaxed week or two there.
Most of the cities we visited were nice. Bergen's great (do the Norway in a Nutshell tour), Trondheim's pleasant, Bodø is tiny, Andennes is sad, and Tromsø is surprisingly sophisticated for being so far north. Oslo's a lovely big city, the Aker Brygge is an example of urban redevelopment working successfully and the Vigeland sculptures in Frogner Park are terrific. But while we enjoyed all these places none were really exciting, nothing so great I have to go back. I was particularly missing a good cultural museum that explains Norway's history; being under Danish rule for so many centuries seems to have limited the historical imagination.
I can't talk about Norway without remarking on how terribly expensive it is. We're used to high European prices but between Norway's robust oil economy and its insulation from the eurozone financial crisis it's way out of hand. Crappy paper cup of coffee? $5. Pint of beer? $12. Main course at a decent restaurant? $50. Pretty much everything cost double what it does in San Francisco and some 50% more than most of Europe, making it hard to recommend Norway as a tourist destination right now.
This post seems negative. Truthfully, Norway was a bit boring and the cuisine was a bit disappointing. But it is a beautiful country, the people are friendly, it's sophisticated and comfortable. I'd gladly live there (at least in the summer) and I'd be happy to go back as a tourist.