Looking back on my trip to New Zealand,
Queenstown
was my favourite place to tourist. That's easy to say, since Queenstown is the tourist center of NZ. But it's a lovely spot in the middle of the
Southern Alps
and the tourist infrastructure is welcome. Lots to do.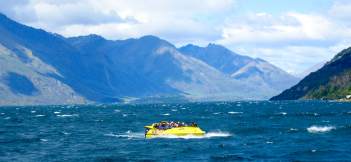 Queenstown is the center for "adventure tourism".
Bungee jumping
was invented there, paragliding, etc. Not for me, but I did enjoy the
jet boats
, rafts that draw only three inches of water and go 50 miles an hour. Kind of like a roller coaster on an alluvial river. And Ken and I enjoyed
the luge
on the hill above town. Nice view and goofy fun.
We also took a great helicopter tour to Milford Sound on the west coast: beats the 10 hour bus ride, and the views of the glaciers from the air are amazing. And we enjoyed a leisurely boat cruise on the Earnslaw, a steamboat that was improbably built, disassembled, carried by train, then reassembled to be trapped forever in the lake. And there are a lot of wineries to visit south of Queenstown in Central Otago, an up and coming pinot noir area. Akarua was my favourite.
Queenstown also has the best restaurant concentration we found in New Zealand. We had a fantastic tasting menu at Wai, a great seafood place. We were somewhat disappointed by The Bathhouse; eccentric service, OK but not great food. But the best dinner we had was at The Bunker, a tiny little hidden place with amazing preparation. I ate a lot of lamb in NZ, this was by far the most succulent and with the best flavour.
We found most of these things thanks to the help of Lavinia, our host at the Evergreen Lodge. A wonderful little four room hotel about two miles out of town, up on the hill with a great view of the lake. Great hospitality, the kind of place where you enjoy talking to the host and the other guests. It was good to be out of Queenstown itself, much quieter, but still a quick cab ride into town for dinner. Well recommended.