I just had a lovely little two day outing to
Murphys, CA
, about three hours drive east of SF
between Stockton and Yosemite
. If you're looking for a weekend getaway and want a mix of gold country, Sierras, wine, and good restaurants then Murphys is a good option.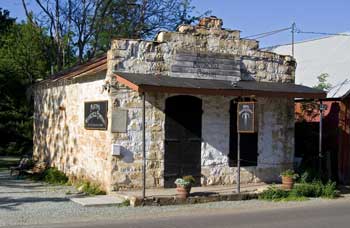 I love going up to the Sierra foothills, it's relaxed and beautiful and the gold history gives some architectural interest. On my full day in Murphys I visited
Mercer Caverns
, a fine vertical limestone cave that's a bit worse for wear after 120 years of tourism. I also headed up to the incomparably beautiful
Big Trees state park
, home to a couple of
groves
of giant redwoods and a fine looking swimming hole on the Stanislaus river.
There's a zillion pleasant towns in the Sierra foothills. Murphys is distinguished by its concentration of good restaurants and wine tasting. Calaveras County is a relatively young wine area, but the local winemakers got the bright idea to put all their tasting rooms in one town. You can easily spend a pleasant afternoon having lunch and wandering around the friendly tasting rooms. And Murphys has several fine restaurants. I had a delicious roasted pork shoulder with beautifully seasoned beans at Grounds. Next night was even better, with spicy corn chowder and perfect lamb chops at Alchemy. Both meals were way better than you could expect in a town of 2000 people and Alchemy could easily compete with any of my favourite places in San Francisco.
I'm always a bit uneasy with being in a tourist town, but places like Murphys justify it. The area is beautiful enough to be worth visiting and the tourists bring in money to support good services. The whole gold country region is really growing with tourism. Even sad little Plymouth, a town I visit solely to take pictures of a rusted gas pump, is now home to a fine restaurant, a gourmet deli, and soon an Indian casino.