Looking for a nice weekend vacation in the wine country of California? Forget Napa; too crowded.
Sonoma County
is a good alternative; more rustic than Napa, more laid back. But still quite cultured and beautiful with great wine.
I spent most of the weekend in Healdsburg, CA, about an hour and a half north of San Francisco just off 101. It's a cute little town with an upscale tourist infrastructure but still relaxed. The Hotel Healdsburg was pleasant (but not perfect). The real highlight was Charlie Palmer's Dry Creek Kitchen, a fantastic restaurant concentrating deeply on local food and wine. Healdsburg is full of good looking restaurants: Bistro Ralph, Madrona Manor, Zin, etc.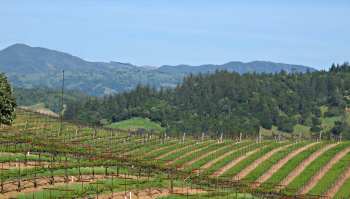 As for wine, the guide you need is the
Russian River Wine Road
, particularly the
maps
. We concentrated on
Dry Creek valley
, a long narrow valley with a great little road on the west side.
Lambert Bridge
is an old favourite there. This time we dropped in on
Raymond Burr
and
Yoakim Bridge
, both small wineries that only sell direct. Excellent wines, very full flavoured with some refinement.
The best wine of the weekend was at the restaurant sommelier's recommendation, a Hafner Vineyard's 1993 Alexander Valley Cabernet. The elegance of a proper aged Bordeaux at a price that wasn't wacko.
Alas, the housing prices are wacko: nice homes in Healdsburg are $700,000 and up, and a little 1800 square foot vacation home in the hills with a few acres of land is $1.5M or so. So much for the fantasy of a weekend place.