Ken and I just took a nice trip to Germany, focussed mostly on the northeastern corner on the Baltic Sea. Lovely trip, very mellow, here's a bunch of photos.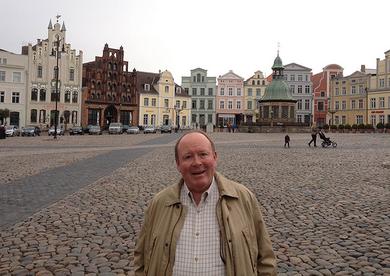 The biggest revelation for us was the Baltic sea resorts, 19th century spas and hotels. We started our trip on Rügen, a relaxing quiet island. The town of Binz has a terrific collection of nice hotels and restaurants. Also nearby is Nationalpark Jasmund with its famous chalk cliffs, the bizarre Prora (a facist beach resort built in the 30s), and the Rasender Roland beach steam train.
But the best Baltic sea experience was a last minute decision to go to the Grand Hotel Heiligendamm and its amazing gourmet restaurant Friedrich Franz. Really lovely overnight, fantastic cooking. Heiligendamm is interesting for being one of the first ever beach resorts, founded in 1793 and popular with various royalty. Up to and including the G8 summit in 2007. Also another steam train, the Molli Bahn. Just a terrific place all around, worth planning a stay if you're in the area.
Beyond the resorts we visited various Hanseatic towns: Rostock, Wismar, Stralsund, Lübeck. And a trip down to the lake region to Schwerin. Lots of beautiful brick buildings dating from a wealthy past in the 15th-17th centuries. Of the places I liked Lübeck and Schwerin the best, combining charming town centers with some lively modern life.
The trip was bookended by visits to Berlin and Hamburg. Berlin is amazing, particularly right now since its relatively low cost of living has attracted a vital core of artists and entrepreneurs. I think we may try to go back to spend a month living there next year. Hamburg is also quite pleasant for a visit, I think it's a city that would reward settling in and exploring a bit.