Dresden
was the most surprising part of my trip, astonishingly beautiful. I only knew about the
firebombing
, followed by 40 years of communist architecture. What I didn't know is that the city is truly beautiful, with a
lovely waterfront on the Elbe
. And the old center of Dresden, the showpiece
palaces
and
promenades
, has been
completely rebuilt
with a very traditional restoration.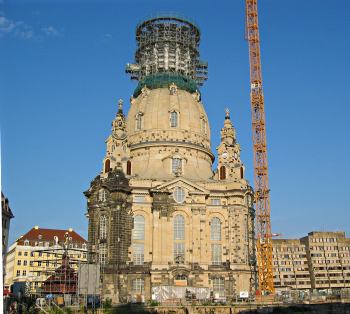 The pride of Dresden's reconstruction is the
rebuilding
of the
Frauenkirche
, the Baroque church that was left in
complete
ruin
after the
destruction in 1945
. The restored building is beautiful, using the traditional stonework techniques. As you can see in my photo above, they reused the old (blackened) stones where they could.
Yesterday was the symbolic conclusion of the reconstruction, hoisting the cupola with a British-donated cross to crown the church. The cost is enormous: $175 million or more. Imagine the pride in this restoration, coming after reunification.
Quick tourist tips for Dresden: the Bülow Residenz is a great hotel, with a terrific Michelin-starred restaurant. And take a steamship tour on the Elbe.