The best part of my trip to France last month was poking around the Southwest. Carcassonne, the Lot, Perigord, the Dordogne. Beautiful, restful, lots of interesting little towns. Below is some of the nice things we found. See also my
notes on restaurants
from the trip and
my photos
.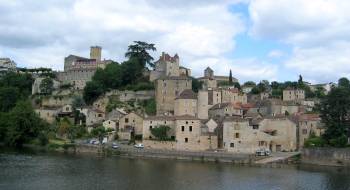 Carcassonne

This restored hilltop city is one of the best known sites in Languedoc. It's very touristy without a whole lot to do, but it's beautiful and pleasant, particularly in the evening. I'm glad we stayed in the old city itself at the Hôtel de la Cité.

Albi

We dropped into this town for just an hour; next time I'll spend a couple of days. Beautiful medieval town in red brick, including an amazing bridge and the Basilica of St. Cécile, an imposing fortress of a cathedral with a beautiful interior. Albi was the center of the Cathar heresy, a big part of the history of southwest France.

Mercuès (Cahors)

The town of Mercuès isn't worth a special trip, but the fantastic Château de Mercuès is. It's everything I like about fine French country hotels. You drive across the valley and see a 17th century château on the hill. That's your room for the night. Lovely staff, great restaurant, fantastic view and a serious winemaking operation on the grounds. And the location is a great base for exploring the Lot, Quercy, the area around the Canal du Midi, etc. These two days were my favourite part of the trip.
A preserved medieval village on a hilltop just a bit east of Cahors. It makes for a picturesque couple of hours of ambling towards a good lunch in the middle of a day driving along the Lot valley. André Breton lived there in his old age.
Another charming old town, this one west of Cahors on the Lot river. There's not a lot to do there, but I got two great photos and the town is the center for the local area. We had a nice lunch there at Le Fournil De L'Opera Bouffe, on the main street.

Domme

Yet another hilltop town, on the drive north into Perigord, This one is remarkable for its amazing view over the Dordogne. Also a great place to buy preserved foie gras.

Les Eyzies de Tayac

Our third home base on our trip, chosen mostly for its fantastic restaurant and proximity to Lascaux. I'm really glad we visited Lascaux: the reproduction is great and the art is truly amazing. Les Eyzies is the center of research into prehistoric man in France; the area is lousy with caves and artifacts. The Museum of Prehistory is a must see if you like seeing case after case of chipped rocks.
A compact medieval city that's also bustling with real people going about their lives. Definitely worth an afternoon's walking around; I may stay here next time. Life seems good there.

Toulouse

The end of our time in the Southwest, France's third largest city. I wish I could say I liked it more, but the crowds and busyness were an unwelcome contrast to our bucolic ambles in the countryside. It's a very lively city though, with plenty of interesting things to do. I'd enjoy it more if I were in an urban mood.
Looking back on my notes, I see our trip was heavy with charming medieval towns. I guess that's what I like to do best in France, just poke around the area and find interesting architecture, views, towns, etc. It seems to me people live pretty well in the countryside there.