I've been greatly enjoying gay country & western musician Orville Peck's new cover of the song Fancy. No video yet, but give it a listen, maybe before or while you read this post.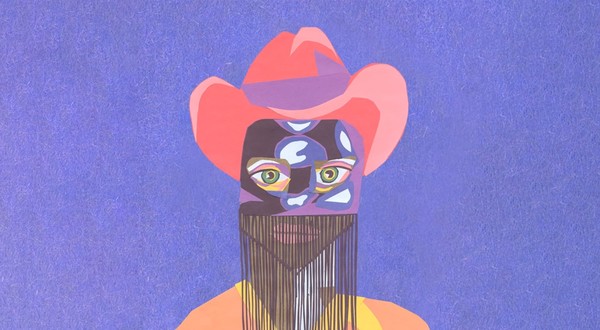 Fancy was written and first performed by Bobbie Gentry in 1969. But the song is best known as the Reba McEntire 1991 cover. Both performances are pretty similar, upbeat and with doowop backup singers. It's a great song, but it feels a bit dated and strange.
Peck's album version is quite different. He plays it spare and tragic. The song comes off a lot more dark and sad this way and to me, more meaningful. Worth noting this variant is unique to the EP; Peck's live versions from last year I can find online (1, 2, 3) are more upbeat and read a lot like the Reba version.
But the real change Peck makes is in a single lyric.
Staring back from the looking glass
There stood a woman where a half grown boy had stood
The original lyric is "half grown kid"; it's remarkable Peck chose to bend it to gender-specific. It instantly recasts the whole song as a transgender tragedy. Which then gives so many of the other lyrics more powerful meaning. "To thine own self be true", "Said I was gonna be a lady someday though I don't know when or how". "I couldn't see spending the rest of my life with my head hung down in shame." It even gives the unlikely name "Fancy" a new entrendre as a chosen name, maybe a drag name.
A gay man singing a woman's song in a baritone is always going to queer it up a little bit. But as the Esquire article notes Sam Hunt covered the song last year and it just sounded like a man singing a woman's song, nothing too unusual. I give Peck's LGBT stage persona plus his smart choice of changing that single word to infuse the song with something new. I sure hope he does a video for it; both Gentry and McEntire have elaborate story-telling videos for the song and I'd like to see him take a swing at that.
Peck's still out on the fringes of country and western but happily C&W is pretty broad and welcoming. His big breakthrough might yet be Legends Never Die, his new duet with Shania Twain. The song's not particularly queer but it's great and must sound terrific on the radio. The video is fantastic and pretty gay.
Here's your one chance Fancy, don't let me down
Here's your one chance Fancy, don't let me down